x-integra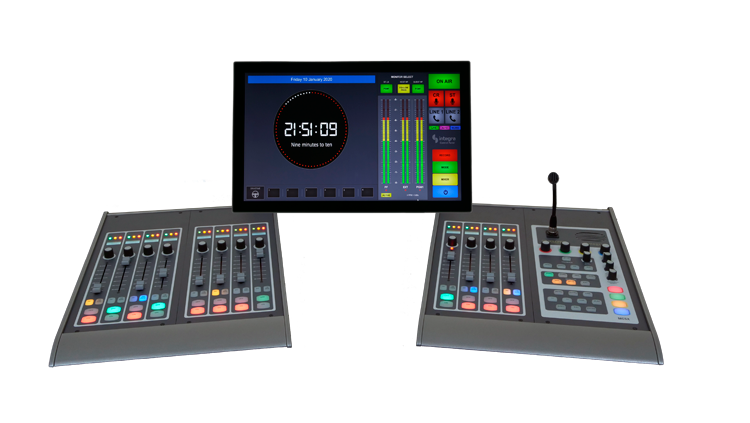 x-integra meets the requirements of more sophisticated broadcasters, with the ability to support multiple cleanfeeds and comms from OB sites. And other studios.
The optional AoIP interface can either have an Audinate Dante module or Ross Liberty AES67 module, allowing integration with both of the industry's leading protocols.
x-integra has more inputs and outputs than the S variant, and the control surfaces feature hardware Navigation and Special Function buttons, as well as better quality faders.
Summary of features
4 x mic inputs with EQ and dynamics (expandable to 8)
13 x stereo line inputs with comprehensive remotes
4 x AES3 inputs with sample rate convertors and GPIO (expandable to 8)
PGM, REC, AUX stereo mix buses each with dedicated analog outputs
Dedicated mono PGM output
Switchable Limiters on main outputs
6 x Stereo CF mix buses with dedicated outputs and individual talkback
2 x Mono CF mix buses with dedicated outputs and individual talkback
8 x user assignable AES outputs (expandable to 12)
Optional 8 channel USB ins/outs for cost-effective interface to playout systems
Dedicated Control Room and Studio LS outputs
Mixer operator's headphone output
4 x Headphone Outputs to optional Guest/Host remote control units
(expandable to 8)
Dedicated External Monitor input
Talkback to cleanfeeds, guest headphones, studio LS and AUX
RTB to headphones and CUE speaker
Built-in CUE speaker
Built-in TB mic
On-screen metering, MODE and FORMAT selection
Multiple configurable GPIOs
GPOs to illuminate Yellotec Mic arm led rings
APC has front panel analog inputs, outputs and patch sockets
Comprehensive health status monitoring and diagnostic indicators